Italian Food Products
At Russo's Gourmet Food & Market we have an extensive product line of Imported Italian Food Products. Our family has been providing delicious Italian gourmet food for over 60 years. We offer a large range of imported gourmet food products, making entertaining easier.  While you are shopping for imported Italian Food products, for your convenience we also offer general groceries like meat, poultry, dairy, and fresh crisp produce.  We also offer prepared Italian dishes that you can dine in our cafe or take home.
The finest assortment of imported artisanal pastas.
We carry DeCecco, Granoro, Barilla, Pisani, Pirro. From Penne, Tagliatelle, Spaghetti, to Trofie, Strozzapreti, Tortiglioni, Cannolicchi and more!
Pasta Pirro and Pisani are dry artisan pasta brands that are manufactured in Calabria, Italy and imported exclusively by Russo Food and Market.
Russo Gourmet Foods Market supplies and produces a variety of tomato sauces:
Russo Peeled is Imported exclusively from Italy.
Colavita and Napoli, are a variety of domestic tomato sauces.
Variety of sauces, canned peeled, puree, cherry tomato, and paste.
We also carry La Belle San Marzano, Cento and many more!
In addition Russo Gourmet Foods Market prepares homemade sauces daily.
Take your cooking to the next level!
Russo Gourmet Foods Market has a large selection of delectable Olive Oils, Vinegars and glazes.
Our fine olive oils and vinegar brands including Sita, Cirio, and our family extra virgin olive oil Casa Ligaro, directly from Calabria, Italy.
Authentic & Tasty!
We are dedicated to serve high quality delectable baked goods!
A "must see" & "must taste" selection of wide variety of Italian bakery items!
Bread
Breadsticks
Cookies
Crackers
Pastries
& more!
Imported Italian & Greek Beverages
A Taste of Class
We import water, "Mangiatorella" from Reggio Calabria, Italy and have a wide range of Italian and Greek beverages.
Shop our selection of imported beverages including water, soda, juices and more!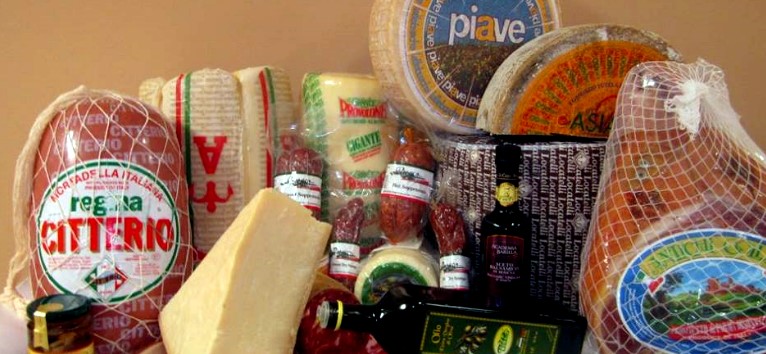 Fresh Salami/Deli Items
A True Taste of Italy
A large selection of mouthwatering cured meats and fresh cheeses will have you coming back for more!
Our Meat and Cheese selection is updated daily with the increase in demand by our intriguing customers.
Espresso Machines that fit your lifestyle!
We import Montano Espresso beans, and ground coffee directly from Calabria, Italy.
Whole Bean Coffee
Ground Coffee
Coffee Brick
Decaf
Authentic & Tasty!
When the holiday's are here and you are in need of gifts for your friends, co-workers, cleints, family etc Russo's Gift Baskets are the perfect gift!
We also have imported seasonal Uova di Pasqua baskets, Imported Cakes, Candy, and more!